Buying a Used Peterbilt Semi-Truck from Pedigree
Peterbilt trucks have a strong heritage within the trucking community and are known for their dependable and top-of-the-line trucks. Peterbilt trucks are known for reliability, even after they have seen thousands of miles on the road. This is why buying used Peterbilt truck for sale is a great option for your fleet and Pedigree is the best place to buy these used trucks. Pedigree maintains all trucks before giving you the keys. With every truck, they have the full maintenance history so you can have peace of mind that you are buying a quality vehicle.
The Peterbilt Advantage
Peterbilts are known for their quality and are highly regarded by drivers. They have excellent interiors for both their day cabs and sleeper trucks. These trucks are also extremely dependable. Using the PACCAR Powertrain system, Peterbilts are able to achieve great performance and fuel economy. Using strong, yet light materials, Peterbilts are able to move efficiently no matter what you are transporting.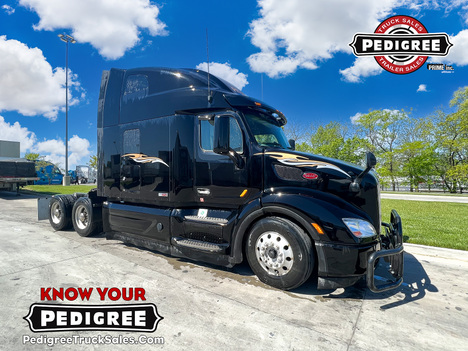 Get Some PETE POWER! 1 Owner & Fleet Maintained – This truck comes with its complete lifetime service record showing all scheduled maintenance completed on…
| | |
| --- | --- |
| Mileage | 434,141 |
| Cab Style | Sleeper |
| Engine | Paccar MX13 (455hp) |
| Trans | Eaton FAO16810C-EA3 12 spd Auto |
| Wheelbase | 238 |
| Suspension | Low Air Leaf |
View More Trucks