ADD A NEW THERMOKING
TO A USED TRAILER
Don't waste money on a new trailer!  Save HUGE when you add a new Thermoking S-700 or s-600 to any of our used trailers you see in our inventory below!  Questions?  Give us a call by clicking the button below!
Used Semi-Trailers for Sale
At Pedigree, you can find an assortment of quality used semi-trailers for commercial use. Our featured inventory includes quality flatbed, tanker, and refrigerated trailers from top brands like Wabash, Hyundai, Walker, and Reitnouer. A large portion of our semi-truck trailers for sale has been fleet maintained and are spec'd for low-cost maintenance. This includes additions to improve efficiency and performance like fuel-saving skirts to our vast inventory of reefer trailers.
SALE $2000 in FREE Fuel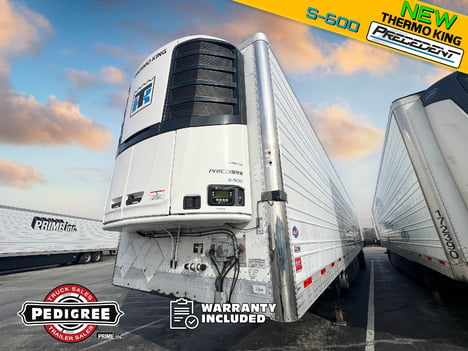 Get UP TO $2000 in FREE Diesel ENDS DEC 25, 2023 $2000 in Free Fuel when you buy a Reefer Trailer. The free diesel will…
| | |
| --- | --- |
| Reefer Make | Thermoking |
| Reefer Detail | S-600 Precedent (New) |
| Reefer Hours | 10 |
| Tire Config | Dual |
| Suspension | Air Ride |
SALE $2000 in FREE Fuel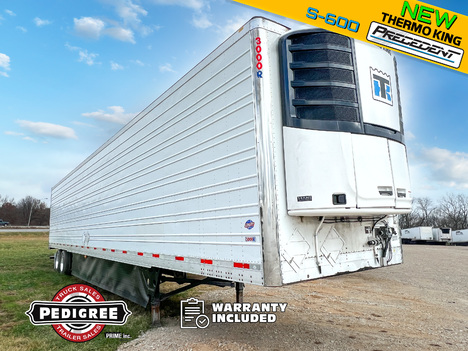 Get UP TO $2000 in FREE Diesel ENDS DEC 25, 2023 $2000 in Free Fuel when you buy a Reefer Trailer. The free diesel will…
| | |
| --- | --- |
| Reefer Make | Thermoking |
| Reefer Detail | S-600 Precedent (New) |
| Reefer Hours | 10 |
| Tire Config | Dual |
| Suspension | Air Ride |
SALE $2000 in FREE Fuel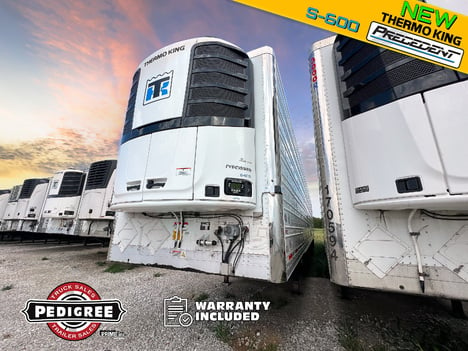 Get UP TO $2000 in FREE Diesel ENDS DEC 25, 2023 $2000 in Free Fuel when you buy a Reefer Trailer. The free diesel will…
| | |
| --- | --- |
| Reefer Make | Thermoking |
| Reefer Detail | S-600 Precedent (New) |
| Reefer Hours | 10 |
| Tire Config | Dual |
| Suspension | Air Ride |
SALE $2000 in FREE Fuel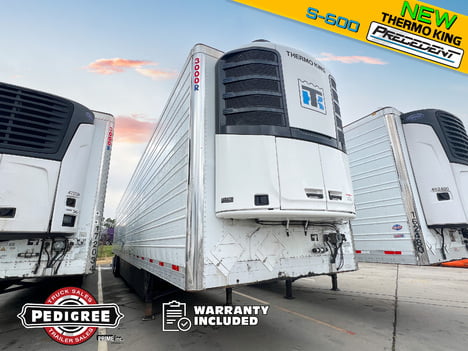 Get UP TO $2000 in FREE Diesel ENDS DEC 25, 2023 $2000 in Free Fuel when you buy a Reefer Trailer. The free diesel will…
| | |
| --- | --- |
| Reefer Make | Thermoking |
| Reefer Detail | S-600 Precedent (New) |
| Reefer Hours | 10 |
| Tire Config | Dual |
| Suspension | Air Ride |
SALE $2000 in FREE Fuel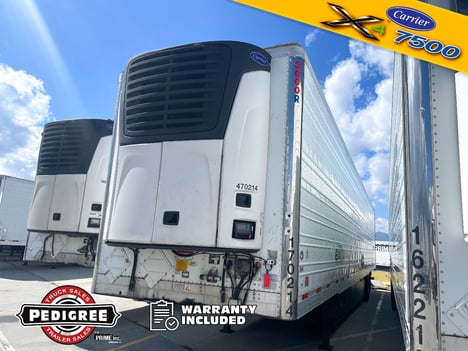 Get UP TO $2000 in FREE Diesel ENDS DEC 25, 2023 $2000 in Free Fuel when you buy a Reefer Trailer. The free diesel will…
| | |
| --- | --- |
| Reefer Make | Carrier |
| Reefer Detail | X4 7500 (2016 model) |
| Reefer Hours | 14000 |
| Tire Config | Wide Base Single |
| Suspension | Air Ride |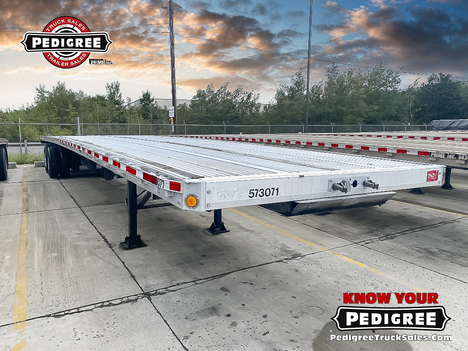 Our All Aluminum & Packed with Extras **1 OWNER & FLEET MAINTAINED** & comes with a complete lifetime service record showing all scheduled maintenance completed…
| | |
| --- | --- |
| Suspension | Air Ride |
| Tire Config | Dual |
| Rear Wheels | Alum/Steel |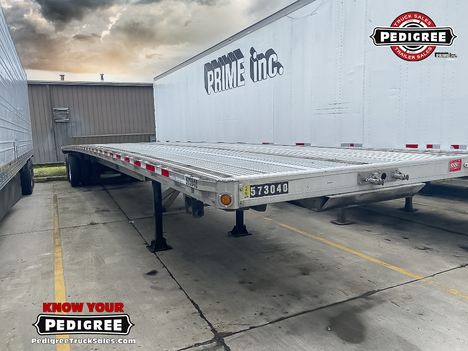 Our All Aluminum & Packed with Extras **1 OWNER & FLEET MAINTAINED** & comes with a complete lifetime service record showing all scheduled maintenance completed…
| | |
| --- | --- |
| Suspension | Air Ride |
| Tire Config | Dual |
| Rear Wheels | Alum/Steel |
SALE $2000 in FREE Fuel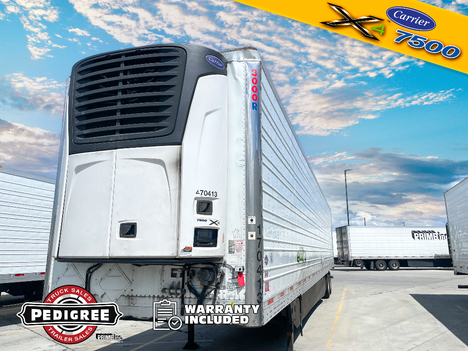 Get UP TO $2000 in FREE Diesel ENDS DEC 25, 2023 $2000 in Free Fuel when you buy a Reefer Trailer. The free diesel will…
| | |
| --- | --- |
| Reefer Make | Carrier |
| Reefer Detail | X4 7500 |
| Reefer Hours | 11867 |
| Suspension | Air Ride |
FREE WARRANTY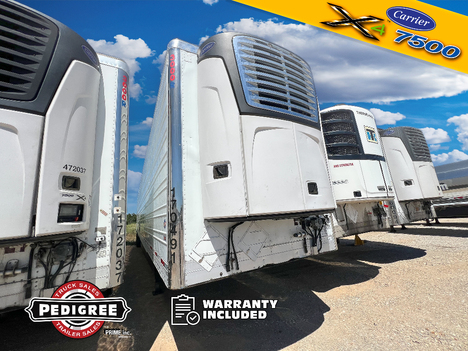 This 2017 Utility 3000R fleet-maintained reefer trailer includes a **FREE 90 Day Warranty** & comes with a complete lifetime service record showing all scheduled maintenance…
| | |
| --- | --- |
| Reefer Make | Carrier |
| Reefer Detail | X4 7500 |
| Reefer Hours | 12857 |
| Suspension | Air Ride |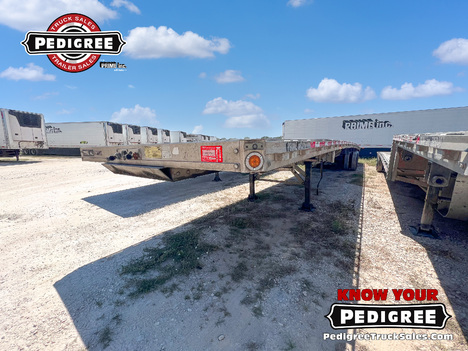 Our All Aluminum Reitnouers are the "Cadillac" of flatbeds. **1 OWNER & FLEET MAINTAINED** & comes with a complete lifetime service record showing all scheduled…
SALE $2000 in FREE Fuel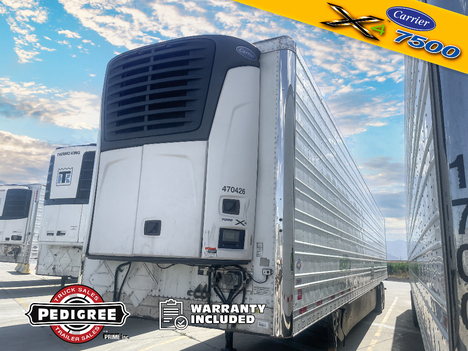 Get UP TO $2000 in FREE Diesel ENDS DEC 25, 2023 $2000 in Free Fuel when you buy a Reefer Trailer. The free diesel will…
| | |
| --- | --- |
| Reefer Make | Carrier |
| Reefer Detail | X4 7500 |
| Reefer Hours | 13431 |
| Tire Config | Wide Base Single |
| Suspension | Air Ride |
SALE $2000 in FREE Fuel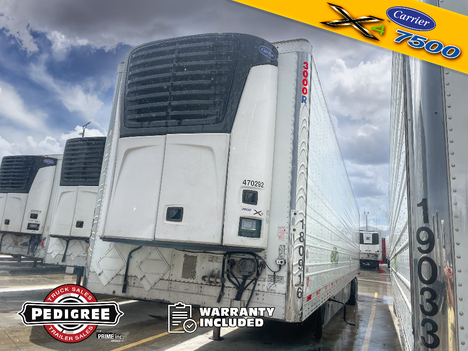 Get UP TO $2000 in FREE Diesel ENDS DEC 25, 2023 $2000 in Free Fuel when you buy a Reefer Trailer. The free diesel will…
| | |
| --- | --- |
| Reefer Make | Carrier |
| Reefer Detail | X4 7500 |
| Reefer Hours | 13162 |
| Tire Config | Wide Base Single |
| Suspension | Air Ride |